Drag Stars At Sea NEW ORLEANS to KEY WEST


An ALandCHUCK.travel Exclusive!


FOR A LIMITED TIME ONLY
Just $1 DEPOSIT Reserves The Cabin Category Of Your Choice TODAY!
Then you enjoy our special payment plan of an additional deposit of $99 a month.

NEW LOW RATES! WE STILL GOT SPACE!
Due to high demand Royal Caribbean prices are quickly going up for this sailing! However here at ALandCHUCK.travel we will continue to offer our next 100 passengers a NEW but STILL LOW rate to book - up to 200 passengers. We recommend you act fast before these new exclusive rates are gone.


WARM WEATHER WINTER 8 DAY CRUISE from just $359 plus taxes & fees!

ALL FREE – SHORE EXCURSIONS, PARTY AT BRAND NEW $3.4 BILLION BAHA MAR RESORT, SECRET KEY WEST POOL PARTY, EXCLUSIVE SHOWS, SHIPBOARD PARTIES AND MORE!

We are very pleased to announce the world famous Drag Stars At Sea cruise will come to NEW ORLEANS & THE FRENCH QUARTER for the FIRST TIME EVER as we celebrate the best of this warm weather cruise. Cruise aboard the beautiful Royal Caribbean VISION OF THE SEAS sailing roundtrip from outrageous New Orleans, Louisiana. This once in a lifetime adventure includes a WORLD'S FIRST for a Gay / Gay Friendly Allies cruise out of New Orleans combined with a visit to Key West and more with some of the world's most famous Drag Queens. One part 'THE BIG EASY' one part the largest gathering of RuPaul's Drag Race Queens ever in New Orleans history… this amazing cruise experience will incorporate the best of New Orleans, the French Quarter, unique cruising on the famed Mississippi River, Key West, Nassau & Paradise Island, and the private island of Coco Cay all from just $379 plus taxes & fees!


Best of all, Drag Stars At Sea New Orleans to Key West ALWAYS includes your favorite queens from RuPaul's Drag Race, fantastic shows, incredible theme parties, unique and exclusive shore excursions, and many other special activities to make this a vacation of a lifetime. In 2019 there is NOTHING like this in North America and it promises to be a vacation of a lifetime!

This incredible cruise experience also features incredible additional experiences. JUST LOOK what is also available….

FREE NOLA EXCURSION: Enjoy a tour of New Orleans exclusively for Drag Stars At Sea guests. ( morning tour)

FREE KEY WEST SECRET "DECADANCE" POOL PARTY: In Key West you have an exclusive invitation for Key West's hottest party of the year… our "DECADANCE" pool party with private VIP admission, DJ performance and more. This party is top secret and you will only receive your secret invitation at MIDNIGHT the night before arrival in Key West with a secret ID admission. It will be an amazing experience that you will never forget.

FREE $3.4 BILLION WITH A "B" BAHA MAR RESORT WINTER "WHITE" PARTY: The largest resort in Caribbean history is Brand New at Nassau's Cable Beach and YOU, as a DSAS guest have a special invitation. We include complimentary transportation from the ship to this mega resort. It's SNOWY WHITE everywhere else… it's 80 degrees at BAHA MAR… so our "WINTER WHITE PARTY" plans to be epic. Enjoy cocktails in the sand, swimming, massages and of course the most fabulous dance party on the island. An EXCLUSIVE armband only experience for DSAS guests will be required for admission.

NEW ORLEANS PRE STAY
January, 2019 / Ask your ALandCHUCK.travel agent for details (AVAILABLE in JANUARY 2018)
You can enjoy pre cruise overnights regardless of where you are coming from. Our Pre Stay will include your selected number of nights of first class or deluxe hotel accommodations, transfers, and much more. Your ALandCHUCK.travel reservations agent can assist you with any detail planning at exclusive rates that are not available to you directly.
NEW ORLEANS POST STAY
February, 2019 / Ask your ALandCHUCK.travel agent for details (AVAILABLE in JANUARY 2018)
You can enjoy post cruise overnights regardless of where you are traveling to. Our Post Stay will include your selected number of nights of first class or deluxe hotel accommodations, transfers, and much more. Your ALandCHUCK.travel reservations agent can assist you with any detail planning at exclusive rates that are not available to you directly.



FOR A LIMITED TIME ONLY – Just $1 DEPOSIT Reserves The Cabin Category Of Your Choice TODAY! Then you enjoy our special payment plan of an additional deposit of $99 a month.

ITINERARY
Day 1: Saturday – January 26, 2019
Board Royal Caribbean's Vision of the Seas in New Orleans – Cruise Mississippi River
(ALandCHUCK.travel will offer optional airport to ship transfers and transfers are INCLUDED for New Orleans Pre Stay guests.) What's not to love about New Orleans? The French Quarter is home to one of the most vibrant gay & gay friendly communities in North America. Home to world-class restaurants, bars, and nightlife you are there for the MARDI GRAS SEASON KICK OFF. You will enjoy a welcome aboard reception where you meet your fellow guests, all the RuQUEENS and staff from ALandCHUCK.travel. Enjoy a bon voyage party tonight that gets the cruise started off right!

DRAG STARS AT SEA EXCLUSIVE: FREE New Orleans Shore Excursion Tour (morning tour)

Day 2: Sunday – January 27, 2019
Fun day at sea
Enjoy a fun day at sea. For DSAS guests that means many special events like "INGO", Drag Brunch, Special Shows, and more. This is the PEAK of Warm Weather in the Caribbean so your day at sea will be warm and sun-filled!


Day 3: Monday – January 28, 2019
Key West
Today you enjoy the 'un-official gay capital of America'. Key West holds so much charm and you will soon understand why it is so incredible to visit aboard our lovely cruise ship.
DRAG STARS AT SEA EXCLUSIVE: FREE Secret Key West Pool Party
End your day in key west with fantastic entertainment when back aboard the ship. Our queens will entertain you into the night. This variety of shows can not be seen anywhere else and available exclusively for our guests.


Day 4: Tuesday – January 29, 2019
Nassau & Paradise Island, Bahamas
Today you enjoy tropical Nassau & Paradise Island. It's the peak of Winter in the rest of North America and Europe but today here could be 80 degrees. Explore the 'Pirates Cove' or enjoy the world famous Paradise Island.
DRAG STARS AT SEA EXCLUSIVE: FREE Resort Party at brand new $3.5 Billion with a "B" Baha Mar Casino Hotel

Day 5: Wednesday – January 30, 2019
Coco Cay, Private Caribbean Island
"The weather outside is FRIGHTFUL… let it snow, let it snow, let it snow"… as you enjoy tropical private island Coco Cay. This beautiful tropical deserted island will feature great food and bar, beaches, warm water, and lots of fun. Did we mention… let it snow… at HOME?


Day 6: Thursday – January 31, 2019
Fun day at sea
Our special events aboard ship continue on this relaxing day at sea (and night). Enjoy shows, parties and more exclusively for DSAS guests. This is the PEAK of Winter in North America so your day at sea will be warm and sun-filled!


Day 7: Friday – February 1, 2019
Fun day at sea
Our final day aboard the Vision of the Seas is a wonderful day of Caribbean cruising. Enjoy a highlight of our cruise as you enjoy meet/greet and pictures with all talent as a tremendous keepsake of Drag Stars At Sea New Orleans to Key West.


Day 8: Saturday – February 2, 2019
New Orleans
Today if you have purchased transfers to the New Orleans airport you will be transported to meet your flight home. Return home with memories of a fantastic time aboard Drag Stars At Sea. Why not extend your vacation with a New Orleans and French Quarter post stay.
FEATURES
WELCOME ABOARD MEETING & STARS MEET/GREET
On the day you board the cruise ALandCHUCK.travel will host a Drag Stars At Sea Welcome Aboard Presentation that will include a welcome to all guests, the latest information on the cruise and meeting all the stars of the cruise. It is an exclusive for DSAS guests.

ALandCHUCK.travel CONCEIRGE DESK ABOARD SHIP
An exclusive benefit for our Drag Stars At Sea guests is a Concierge Desk that we operate daily. It will provide information on every aspect of the cruise and goes much farther than what is available through the cruise lines Guest Services. This concierge service is provided exclusively by ALandCHUCK.travel staff.

"AT A GLANCE" COMMUNICATION BULLETIN
This concise summary of all events aboard the ship will help you plan and remember every detail to ensure it is a vacation of a lifetime.

BAR & DRINK PACKAGES, WIFI AND MORE WILL BE AVAILABLE
ALandCHUCK.travel is happy to announce that unlimited beverage package is available. There are variety of specially priced packages available through ALandCHUCK.travel and you will be able to make reservations for them after final payment. This will be the best way to enhance your vacation experience.

SPECIAL MEET & GREET WITH EVERY STAR ABOARD THE SHIP
One of the highlights of DSAS is a special photo opportunity and group meet/greet with ALL THE QUEENS at once! Imagine trying to get all these queens in one place! This rare photo will be one to treasure for years to come.


INCREDIBLE ARRAY OF SHOWS, SPECIALITY SHOWS, EVENTS, PARTIES, DINING EXPERIENCES & MORE
This is the 'World's Most Famous Cruise' for a reason. Join our FACEBOOK Group Page and be able to interact with other guests and the stars of the cruise. You will quickly discover, our guests and the stars consider this "FAMILY". It is a vacation experience unlike anything you will ever do. That is supported by the largest offering of private parties, shows, events, experiences that are available anywhere. In addition to our grand shows, DSAS offers some specialty shows for additional charge. FRANKLY, it is unlike anything available in the world. If you want to see more examples review our EXPERIENCE tab to get the feel of Drag Stars At Sea.


NEW ORLEANS PRE & POST STAYS WILL BE AVAILABLE IN JANUARY 2018. THESE SPECIAL PACKAGES WILL INCLUDE TRANSFERS AND SPECIAL EVENTS IN NEW ORLEANS.
FOR A LIMITED TIME ONLY – Just $1 DEPOSIT Reserves The Cabin Category Of Your Choice TODAY! Then you enjoy our special payment plan of an additional deposit of $99 a month.
NEW LOW RATES! WE STILL GOT SPACE!
Due to high demand Royal Caribbean prices are quickly going up for this sailing! However here at ALandCHUCK.travel we will continue to offer our next 100 passengers a NEW but STILL LOW rate to book - up to 200 passengers. We recommend you act fast before these new exclusive rates are gone.
Category Per Person Rates
*NOTE OF CRUISE RATES: IF you have sailed on Royal Caribbean before you qualify for special club membership discount on your cruise fare. ASK your ALandCHUCK.travel agent for details. ALL RATES ARE CHARGED IN US DOLLARS. All rates are per person double occupancy.
$359 - Category 6V Inside - SOLD OUT
$379 - Category 4V Inside - SOLD OUT
$469 - Category 3V Inside
$409 - Category 2V Inside
$499 - Category 1V Inside
$449 - Category SSIM Inside (Male)
$449 - Category SSIF Inside (Female)
$529 - Category 6N Oceanview
$649 - Category 3N Oceanview
$569 - Category 2N Oceanview
$689 - Category 1N Oceanview
$699- Category 1M Oceanview
$979 - Category 1K Oceanview - SOLD OUT
$599 - Category SSOM Oceanview (Male)
$599 - Category SSOF Oceanview (Female)
$889 - Category 1K Oceanview - SOLD OUT
$969 - Category 3B Balcony
$989 - Category 2B Balcony - SOLD OUT
$999 - Category 1B Balcony
$1019 - Category 4B Balcony - SOLD OUT
$1999 - Category VO Suite no balcony - SOLD OUT
$1599- Category J4 Junior Suite
$1739 - Category J3 Junior Suite
$1799 - Category GS Grand Suite
$2099 - Category OS Ocean Suite
$2599 - Category RS Royal Suite - SOLD OUT
SINGLE RATES:
Single occupancy fares are 200% of the double rate: You may travel in a cabin single and the cruise fare listed about is 200% for single. Single guests pay Government taxes and fees only once.

3rd & 4th GUEST RATES:
There are special reduced rates for the 3rd & 4th guests: Most cabin categories accommodate a 3rd & 4th guest in the cabin. There are special lower rates for the 3rd & 4th passengers. 3rd & 4th INSIDE rates are $299; 3rd & 4th OUTSIDE rates are $399; 3rd & 4th BALCONY rates are $449; 3rd & 4th SUITE rates are $499.
SINGLE SHARE OPTION:
Introducing Our Single Share Program: Traveling Solo?
Our roommate match program allows you to book a cabin guarantee and we will match you with a room mate also booking in this same category. Category SSIM (Single Share Inside Male), SSIF (Single Share Inside Female), SSOM (Single Share Outside Male), Category SSOF (Single Share Outside Female). You will book as a single share in a female only cabin or a male only cabin. (Single Share Option is only available on Cruise Portion of this trip, not available for the pre-Stays). ALandCHUCK.travel can not be responsible for the likes, dislikes, or consequences of the roommate match program.
RESERVATIONS & PAYMENTS: $1 DEPOSIT UPON BOOKING CONFIRMS YOUR CRUISE Then an additional deposit of $99 will be charged to the same card on approximately the first day of every month. Each additional payment is considered part of your deposit. Final Payment is due 120 days prior to departure. Rates were valid on July 5, 2017 and are subject to change.
GOVERNMENT IMPOSED TAXES & FEES: are an additional $269. Your pre-paid onboard gratuities are $109 and will be paid at final payment. This charge is for all pre stay and onboard dining waiters, cabin stewards, and other onboard staff.
CABIN ASSIGNMENTS:
All cabins are reserved as a CATEGORY GUARANTEE due to the special nature of our large group. This means your stateroom will be assigned by the cruise line at its discretion, in the category in which you reserve. You may choose your cabin location in advance for an administrative fee of $35 per person, and ROYAL CARIBBEAN CRUISE LINES will assign your cabin within 7 days. All rates for Drag Stars at Sea New Orleans to Key West are per person.
CANCELLATION PENALTIES:
Deposit(s) is non refundable
120 - 91 days prior 50%
90 - 61 days prior 75%
Within 60 days 100%

CANCELLATION & INTERRUPTION INSURANCE IS HIGHLY RECOMMENDED.
We highly suggest travel protection, which offers benefits for trip cancellation/interruption and more. Please read the Plan Document carefully, which contains benefit and plan details. It is recommended that you compare and review other travel protection before purchase. The travel protection offered is through a third party provider. Legendary Journeys does not own nor operate any travel protection provider, nor has any influence in the outcome of any claim.
DSAS PARTICIPATION ANNOUNCEMENT: This Special Cruise is CREATED AND HOSTED by ALandCHUCK.travel. Note that the participation in all cruise affairs and events must first be CONFIRMED with ALandCHUCK.travel. This is a VIP DSAS PRIVATE EVENT and only guests with this ID will be able to participate.


Star Entertainment

Stay tuned for Talent Announcements! Look who has traveled with us in the past:

Here is what our guests say about Drag Stars At Sea:

"THANK YOU ALL for a wonderful trip! we made new friends, caught up with old and had the time of our lives running all around europe. these cruises are trips of a lifetime not just for my family, but for me as well. i feel so lucky and blessed to be a part of such a great, big, dysfunctional family and i would have it NO other way! Edward Sotomayor Daniel Milks and Braden Chapman kudos on helming the project, jobs well done. thank you AL Ferguson for having these cruises of a lifetime but you were missed very, very much. WHAT AN INCREDIBLE GROUP OF PEOPLE WE HAVE LOVING WHAT WE DO. THANK YOU ALL for being so great with my daughters too! love you and thank you from the bottom of my cold, black, dry heart" - Michelle Visage


"Just wanted to say we had yet another epic voyage. It was great to see many friends from last year's cruise and to make many new friends. I always hate this part of the trip. I wish we all could live nearby and enjoy this happiness and closeness all year long. But it just means we all look forward to our next journey together." - Alex Bento


"Hi everyone! I just wanted to say what a lovely time I had on this cruise. It was so nice to see smiling faces and great attitudes. I hope you all enjoyed it as much as I did. Lots of love to all of you!! And thank you for making it such an amazing time." - Pandora Boxx


"David and I had an amazing time with you all this year! It was great to meet up with people from last year and awesome to meet all you newbies!! Special thanks go to Daniel Milks and Edward Sotomayor for all the work they put in on the pre-stay and on the cruise, you really did yourselves proud! AL Ferguson it was a shame you couldn't make it only cause we wanted see you again this year, but your boys did excellent work in your place!

I just wanted to say thanks to everyone for being such a great bunch of positive people to be with this year, I have always been an introvert but found it really easy to come out my shell this time round.

And to the queens! All fabulous but special mention to Latrice Royale for just being Latrice, Ongina for being the only queen to leave with MORE luggage than she came with! To Kennedy Davenport for that voice! And to my new favourite queen (sorry everyone else I love you all) Mrs Kasha Davis. Bit long winded I know but had to let you all know what a great time we had." - Daniel Robertson-Wright
"A big shout out to Daniel Milks, Edward Sotomayor and Braden Chapman for all their hard work in setting up this wonderful adventure. It can't have been easy organizing so much to do in a couple of weeks. Hats off to all who were a part in organizing this fantastic voyage!" - Gary Toulouse
"I know I am a bit delayed but just want to say I had a fab time on my first Drag cruise and it was great to meet everyone and make lots of new friends. Some people really travelled far for this cruise (USA, Australia etc) which was impressive so it was great to meet people who love the drag cruise so much. After spending many a Wednesday evening watching back to back drag race with our Aron to catch up (I was late to the drag race party!) it was also great to meet the queens in person and get to party/talk with them. Thanks for joining us on the cruise and putting on some awesome shows!!!! Thanks to Al & Chuck people for organising and running this event too." - Nat Arzt Sheridan
"Appropriate I'm leaving Europe from the Queen's Terminal!! Thanks to everyone for a truly amazing experience. I think each and everyone of you is fabulous. I'm thrilled to have shared a fun cruise experience with you!!" - Shannon Julia
"I had the most amazing time with all of you last week! Thank you so very much for all the love, laughs and memories. I am nothing without you. Each and every one of you is so special to me. You're more than fans, you're forever friends. Until we meet again, keep it foxy! WONK WONK #dragfansarethebestfans
Thank you to Eddie S and Daniel Milks for your constant magic, Braden Chapman for running such amazing shows, and AL Ferguson and Charles Scott for providing such a spectacular opportunity for us and our fans. You're all rock stars!" - Joslyn Fox


"This from a guy (me), from South Louisiana, who had never been on a cruise, or been to Europe, in his life: Thanks to everyone...the people I met made this the BEST vacation experience of my life! Special kudos to Edward Sotomayor, Daniel Milks, Braden Chapman...you guys are top notch!!!! To Michelle Visage, the true Miss Personality of the World, I love you and your family! To Ryan Palao-Wray, you are absolutely the cutest! To Mrs. Kasha Davis and Stephan, I can't wait to see you again!"

"For 2 weeks, I got to be me, freely, and surrounded by wonderful people!! I'll always treasure seeing the sites of France, UK, Spain, Portugal...but the beautiful PEOPLE I met from Scotland, England, Netherlands, Ireland, Australia...and foreign lands like California, Illinois, Florida, & Texas...made an unforgettable experience!!!"

"…To AL Ferguson: Your guys were the greatest! I can't wait to go again...I hear I missed your long speeches (LOL). My only complaint is that my bucket list just got longer!!!!" - Gordon Propst
"Finally back to warm climates but for some reason it's not as warm as it was on the trip with all of you wonderful people. Inspite of rainy days, rough seas, homicidal go-karts and crazy muggles, it was a holiday for the record books. Thanks to my fellow cruisers, the trip organizers, and the fantastic queens and entertainers for making an unforgettable impression on my life" - Marcus Ditty
"I literally just walked into my house after flying back from Madrid. It's 2am for me. But I just wanted to take a moment to say that I had an amazing experience. I already miss my chosen family so much. Each one of you brings something unique to my life. Thank you for each special unique personality that has touched my life and so many other people's life. AL Ferguson, Edward Sotomayor, Daniel Milks & Braden Chapman I cannot even begin to express my gratitude for creating a place to live out our dreams. Michelle Visage and family thank you for your light and support. To all of my new friends, I can't wait to grow in our friendship. To all of my old friends, I truly came home for the first time since I was disowned at the age of 16... You will never know what your friendship love and since of community means to me. Having that said, may the best of our past be the worst of our future... Here's To Life!" - Shane Tinsley


VIDEOS:
Take a Look at some of these fab videos from Drag Stars Cruises. Every trip is unique and fun.
FOR A LIMITED TIME ONLY – Just $1 DEPOSIT Reserves The Cabin Category Of Your Choice TODAY! Then you enjoy our special payment plan of an additional deposit of $99 a month.
This is so much more than a cruise.
STAY CONNECTED FROM MOMENT ONE: Your vacation starts before you EVEN GET ON THE PLANE. Join DRAG STARS AT SEA on FACEBOOK. Join the conversation! Our Drag Stars family online consists of past and future cruisers just like yourself. It is the best way to get information before anyone else. You never know what sneak peek information we're going to drop - and we always share with family first. Join today - plus YOU NEVER KNOW which Drag Star you might run into online. Our queens have been known to visit.

THE MAIN SHOWS: Over ten of America's biggest drag superstars join forces in larger – than - life drag show extravaganzas… at Sea! Join fan favorites from Drag Stars of the past and an introduction of new divas on Drag Stars for the very first time. These "main shows" are rare opportunities to see many of your favorite queens from TV together all on one stage!

THE SPECIALITY SHOWS: Many of our Drag Stars will be offering unique solo and specialty shows on board the Royal Caribbean Explorer of the Seas. These more intimate experiences offer a chance to catch your favorite queens in action, doing what they do best. From Comedy to Cabaret, Jokes and Storytelling, each of these shows are unique to the queen - and Drag Stars at Sea is the only place you can catch them all at once.

THE ON BOARD PARTIES: Our parties are just as fabulous as the queens. Each year we unleash or wildest and most over-the-top dreams with multiple themed parties. Of course, you're encouraged to dress up- and the queens are watching, so don't play it safe. In the past our queens have hosted parties with fabulous themes such as: "Gods and Monsters" "Leather and Lace" "Heroes and Villains" and "Sea Enchantment".

SPECIAL ON BOARD EVENTS & ACTIVITIES: There's more than just parties and shows darling! Your Drag Stars at Sea vacation would not be complete without special on board events. While at sea you're welcome to take full advantage of the many amenities the Royal Caribbean Explorer of the Seas has to offer from the pool to the spa, the choices are endless. If that weren't enough, ALandCHUCK.travel is proud to offer unique on - board events unique to every cruise. From cocktail mixers and game nights to VIP one on one dinners with your favorite queens - you're going to have more choices than you could ever imagine. When we say "vacations as you unique as you" we mean it. This is your vacation! We provide the options and you pick you get the vacation you've always wanted.

SPECIAL PRIVATE & EXCLUSIVE DSAS SHORE EXCURSIONS: Drag Stars at Sea doesn't stop when you get off the boat - we've got exclusive shore excursions for you. At every port we are proud to offer once - in – a - lifetime excursions with a very special LGBT flair. We take great pride in researching, planning and developing the best on - shore experience to go hand – in - hand with your Drag Stars at Sea experience.


About The Ship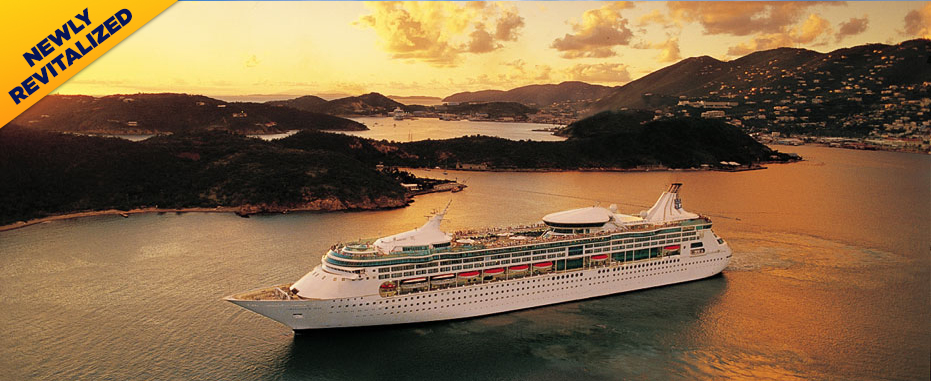 On the now more beautiful Vision of the Seas, you'll never lose sight of why you came onboard – thanks to all new features, from new restaurants to new technology to a new home ports in Tampa and Ft. Lauderdale. Enjoy new staterooms and an outdoor movie screen. There are also 5 new dining experiences onboard, including family-style Italian trattoria, Giovanni's Table, the complimentary Park Café, Izumi Asian Cuisine, the intimate Chef's Table, and our signature steakhouse, Chops Grille. 

All our signature favorites are still onboard, including the VitalitySMSpa, the adults-only Solarium pool*, the Casino Royale®, and spectacular Broadway-style entertainment It's all here – on one amazing vacation.


Number of Days: 8
Starting From: $359
Click Here to view
Departure Dates